Join Now
Nectar Vivifying Skin-D Treatment
This formula was originally delivered as the 2022 Terra, referred to as 'Terra Viva', our January '22 Hero Product. 
A surprisingly lightweight, bioactive hydrating cream-serum combining organic active ingredients with molecularly precise biotechnological components to harness the full power of nature. The result is a splendid nectar-textured hydration layer whose power not only lies in what it can do at the skin level, but how it can stimulate effects on an emotional level.

As we would expect from green-industry pioneer Ayuna, there's a new ingredient rising to the top: vitamin D. 

Vitamin D, often called the sunshine vitamin, plays an integral role in skin protection and rejuvenation, contributing to skin cell growth, repair and metabolism and enhancing the skin's immune system. As we spend more and more time indoors, we become more and more vitamin D deficient, making Nectar Vivifying D-Skin ideal for daytime use. 

Ayuna's new formula optimizes vitamin D in the skin which they call the Skin-D Effect: a firm, plump, revitalized complexion with a captivating radiance, as if its glow came from within.

This unprecedented formula combines stem cells from Living Stones, succulents that promote vitamin D production, and bio-sugars to restore the feel of supple and soothed skin. Astaxanthin, a super antioxidant, has been shown to improve elasticity and reduce wrinkles and fine lines. The life-giving power of cherry sublimate water and the emotional impact of an a new aromatic blend reinforces this one-of-a-kind formula. 

Finally, Nectar introduces a new scent, an aromachological blend that stands out as an ode to positivity, a praise to life that impacts the mood thanks to the therapeutic power of more than twenty botanical essences.
Orchestrated under the baton of of Ayuna's authors with Provençal perfumers, Nectar Vivifying D-Skin Lifefullness Cocktail is a blend of fine citrus notes of lemon, grapefruit, mandarin and orange, wrapped in the complimentary scents of cedarwood, amyris, patchouli and vetiver. A hint of vanilla is added for sweetness and finished with cardamom, angelica, ginger and the greenery of gallium and mint.
THE BENEFITS
D-skin radiant, plump and full of volume
Deeply moisturizes, skin glows from the inside out
Improves skin tone, respiration and microcirculation
Improves texture, evens out and firms
HOW TO USE IT
Massage a small amount gently with the fingertips into the face, neck and décolleté, including the eye contour area, until completely absorbed. Nectar is ideally worn in the day time, to best employ its ability to deliver Vitamin D, but it absolutely can be worn AM and PM. Wear as a hydrating layer under or over with AYUNA Cellular Oil. 
INGREDIENTS
Superpower Ingredients
Astaxanthin, Cherry Fruit Water, Coconut, Living Stones, Olive
Full Ingredient List
Prunus Cerasus (Bitter Cherry) Fruit Water*, Glycerin, Aqua (Water), Caprylic/Capric Triglyceride, Isosorbide, Isosorbide Dicaprylate, Cetearyl Olivate, Sorbitan Olivate, Lactobacillus Ferment, Sodium Levulinate, Sodium Gluconate, Betaine, Cetearyl Alcohol, Lithops Pseudotruncatella (Living Stones) Stem Cells, Callus Lysate, Saccharide Isomerate, Lactobacillus, Astaxanthin, Cocos Nucifera (Coconut) Fruit Extract, Pentylene Glycol, Tocopherol, Biosaccharide, Gum-1, Carthamus, Tinctorius (Safflower) Seed Oil, Cetylpalmitate, Sorbitan Palmitate, Potassium Cetylphosphate, Sorbitan, Oleate, Xanthan Gum, Sodium Anisate, Parfum (Fragrance)**, Helianthus Annuus (Sunflower) Seed Oil, Glyceryl Caprylate, Beta-Sitosterol, Squalene, Citric Acid, Sodium Citrate, Cyamopsis Tetragonoloba (Guar) Gum, Phytic Acid, Linalool, Limonene
*Organic
**Natural Essential Oil-Based Fragrance comprised of Lemon, Grapefruit, Mandarin, Bergamot, Orange, Cedarwood, Amyris, Patchouli, Vetiver, Cardamom, Angelica, Ginger, Petitgrain, Lavander, Davana, Galbanum, Spearmint, May-chang, Vanilla

ABOUT THIS BRAND
Ayuna was founded by Isabel Ramos and Begoña Sanjuan, two seasoned beauty professionals with a vision for innovation. Begoña is a master esthetician, passionate beauty industry professional and expert in product development, Spa and Wellness therapies and aesthetic treatments. Dr. Isabel Ramos has a PhD in chemistry and is an expert in Green Technology and the development of natural cosmetics with a unique understanding the science of the skin, biochemical and biophysical mechanisms and the art of product textures.
Through Ayuna's essential skincare products, Begoña and Isabel introduce a whole new dimension to how to treat the skin based on topical fasting and well-aging. Topical fasting has the same basis as general fasting; eliminate overstimulation, limit intake and provide a balanced diet to allow for self-repair and self-regeneration mechanisms to be immediately activated. Well-aging applies the principles of epigenetics and the brain-skin connection to refocus our view of skin aging. Research shows that our thoughts, lifestyle and environment can alter our DNA. Ayuna skincare embraces this research, with a slow and intentional approach to aging that gives us the space to connect with beauty in a positive way and adapt the teachings of mindfulness to the realm of beauty. Begoña and Isabel's experience in skincare, combined with their extensive understanding of the sophisticated beauty client, active ingredients and application methodology led them to a natural evolution in the field of skincare. From this alliance of knowledge and experience Ayuna, Less Is Beauty was born – an evolutionary scientific-botanical approach to cosmetics that favors simple beauty and a commitment to pure, effective and clean cosmetics.
Reviews
Customer Reviews
Write a Review
Ask a Question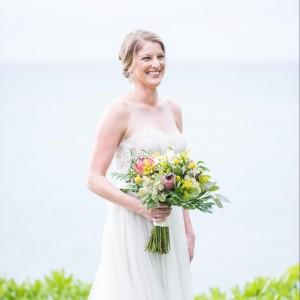 LH
05/18/2023
Lauren H.

United States
I've been converted -- I love it now!
I'll preface this by saying, I am not generally an Ayuna fan. I have received at least four of their (very expensive, often heavily scented, at the time seemingly overpriced) products in subscriptions boxes, including this product. When I received this product the firs time, I was unable to use most of it because the packaging was so inefficient and it made a mess and dried out. However, I decided to give the Nectar Vivifying Skin-D Treatment another try when I received it in the most recent BH Discovery Box. Let me say, I am signing a new tune! The Nectar Vivifying Skin-D Treatment is amazing! I usually have very dry skin, prone to redness and occasional breakouts. This light-weight serum/cream is transforming my skin. Some days, I don't even use a moisturizer! I'm waking up with smooth, plump skin when I use it at night and the overall texture of my skin is improving as well. The scent is delightful! Very light and fresh, unlike Ayuna products I've tried in the past, and now that the product has been repackaged, I have zero complaints. Though it is expensive, the noticeable difference in my skin is so worth it. I can easily see this becoming an HG product for me.
06/25/2023
Eva

Belgium
So good
I just had to come on and write a review. My skin has been out of sorts lately, maybe due to stress/ peri menopause, maybe due to a retinol I used a few times and that felt too harsh. Anyway, I started using this product and in a matter of days my skin cleared up. I looks and feels smooth and plump. Yay! This serum/ cream feels amazing, has a subtle scent and you only need a tiny bit. I have oily skin and I only use sunscreen on top, these days it's Velo.
08/03/2023
Elizabeth V.

United States
A must!
I put this on as my third serum before moisturizing and sunscreen. I can not go without it! Nothing else works as well for firming!